`
Pre-colonial Australia ~ 50,000 bc era
1600's
European explorers visit the West, North and Southern coasts of Australia.
1770
Cook "discovers" East coast and claims it for the British Crown.
1780s
1798
George Bass and Matthew Flinders "discover" Bass Strait proving Van Diemen's Land an island.
1803
Matthew Flinders completed the first circumnavigation of the continent.
1808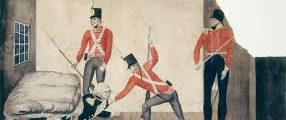 1810 Onwards
Inland exploration begins.
1803-1856
The Cascades Female Factory, Hobart, was opened in 1828 to house and manage the female convicts that came to Van Diemen's Land.
1828
Cascades Female Factory for women convicts opens in Hobart. Ep26-27.
1833
The penal settlement of Port Arthur was founded in Van Diemen's Land.
1835
Settlement at Port Phillip, now Melbourne.
1851

Victoria separated from New South Wales. Victorian gold rush started.
1854

The Eureka Stockade.  Ep 29-32.
1856
Van Diemen's Land name changed to Tasmania.
1859
Australian rules football codified.
1861
The ill-fated Burke and Wills expedition set out. Skiing introduced by Norwegians in the Snowy Mountains goldrush town of Kiandra.
1872
The Overland Telegraph Line linking Darwin and Adelaide opened.
1878-80

Ned Kelly & the "Kelly Outbreak", North Eastern Victoria. See Episode 2: Kelly Story Overview.
1887
The first Test match between Australia and England at the Melbourne Cricket Ground.
1890
The Australian Federation Conference called a constitutional convention. 26 April – Banjo Paterson published "The Man from Snowy River"
1897–1922
Douglas Mawson: "The Heroic Age of Exploration"
~1900
Dingo & Rabbit Proof Fences cross the country. Ep 28.
1901
Australia becomes a federation.
1911

Douglass Mawson undertakes the Australasian Antarctic Expedition  Ep21-25
1932
The Sydney Harbour Bridge opens.  Ep 20.

`