Relations between the authorities and the diggers on the Ballarat goldfield continued to deteriorate, and despite the reports of corruption and violent behaviour being reported to the senior government officials, no action was being taken.
Following a murder on the goldfield, the miners meeting protesting the corrupt investigation that took place afterwards, escalated into a riot, and the Eureka Hotel was burnt to the ground.
A number of influential men on the diggings formed the Ballarat Reform League, to represent and advocate for the Ballarat diggers and their families, and to make representations to the government about the causes of the riot.  But with no satisfactory discussions taking place, the miners lost all patience and resolved that the only course of action open to them, was armed resistance.  A flag was raised, oaths sworn and the men set about organising  a defensive stockade.
(40 mins)
---
---
---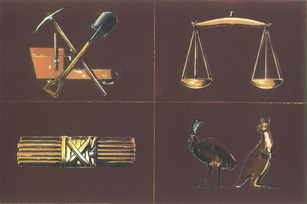 ---
---
Podcast recommendation: 
---
---
Reference list for Ep 31
Age of Victoria Podcast: http://www.ageofvictoriapodcast.com/
Molony, J. N. (2001). Eureka (2nd ed. ed.). Carlton South, Vic.: Melbourne University Press.
Corfield, J. J. (2004). The Eureka encyclopaedia. Ballarat, Vic.: Ballarat Heritage Services.
Ballarat Reform League Inc, & Ballarat Heritage Services. Ballarat Reform League Charter: Eurekapedia. Retrieved from http://www.eurekapedia.org/Ballarat_Reform_League
Bendigo Goldfields Petition 1853. (1853). Retrieved from http://www.egold.net.au/objects/DEG000199.htm
Carboni, R. (1993 [1855]). The Eureka Stockade. Carlton: Melbourne University Press.
Hocking, G., & (a). (2004). Eureka stockade: a pictorial history. Rowville, Victoria: Five Mile Press.
Hocking, G., & (b). (2010). Gold! Off to the diggings: a pictorial history of the Australian gold rush. Castlemaine, Victoria: New Chum Press.
Interpretation by Rhyll Plant. Red Ribbon Rebellion: Diggers Banner. Retrieved from http://www.egold.net.au/biogs/EG00240b.htm
FitzSimons, P. (2012). Eureka : the unfinished revolution. North Sydney, N.S.W. : William Heinemann.
---