The iconic Sydney Harbour Bridge: After a surprisingly long gestation, it's path to construction threads through the history, of growth & colonial settlement in Sydney, including the political machinations at state, federal and even international levels.
And that's before we even consider the working of more than 6 million rivets into the impressive steel structure, now recognisable as a beautiful work of engineering, which Crocodile Dundee spent his early life painting!
(60 mins)
---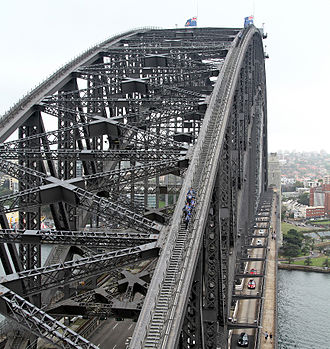 ---
Ep 20 – Sydney Harbour Bridge REFERENCES
Song: The Bridge we've been waiting for, by Jack Lumsdaine: https://youtu.be/glIEEIijDJQ
Lalor, P. (2005). The Bridge: the epic story of an Australian icon – the Sydney Harbour Bridge. Crows Nest NSW: Allen & Unwin.
Spearritt, P. (2011). The Sydney Harbour Bridge: a life. Sydney NSW: University of New South Wales Press.
https://www.nma.gov.au/defining-moments/resources/walk-for-reconciliation
The History Listen: Lennie the legend https://www.abc.net.au/radionational/programs/the-history-listen/lennie-the-legend/10594270
Clark, M. (1987). History of Australia VI: The old dead tree and the young green tree. Melbourne: Melbourne University Press.
http://www.naa.gov.au/collection/fact-sheets/fs183.aspx
Department of Environment and Energy [NSW]. ([2019]). National Heritage Places – The Sydney Harbour Bridge. http://www.environment.gov.au/heritage/places/national/sydney-harbour-bridge
Raxworthy, R. (2000). Sydney Harbour bridge builders: some untold stories. Oral History Association of Australia Journal, 22, 67-71.
Lefurgy, G. (2015). 'Things Australians strive for': Jack Lang's landmark speech at the Sydney Harbour Bridge. Journal of the Royal Australian Historical Society, 101(Part 1), 61-78.
Office of Environment & Heritage: NSW. Sydney basin: regional history. https://www.environment.nsw.gov.au/bioregions/SydneyBasin-RegionalHistory.htm
---
Recommended Podcast: The History of English
---
AHP Facebook AusHistPod Twitter
australianhistoriespodcast Instagram
---