The Kelly Gang rides from Faithfulls Creek to hold up the Euroa National Bank. They take the opportunity to try and explain their past actions and warn of future trouble, should the government not respond to their demands.
From the Bushranger theme, this episode continues our detailed exploration of Ned Kelly & the Kelly Gang.      ( 32 mins)

www.australianhistoriespodcast.com.au
Australian Histories Podcast
Brilliant stories from Australia's past!
AHP Facebook                               AusHistPod Twitter
---
Download this episode (right click and save)
---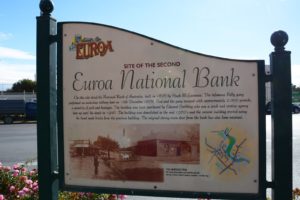 ---
References:  Euroa Pt 2
Castles, A. C., & Castles, J. (2005). Ned Kelly's last days : setting the record straight on the death of an outlaw. Crows Nest, N.S.W.: Allen & Unwin.
Corfield, J. J. (2003). The Ned Kelly encyclopaedia. South Melbourne: Lothian.
Gill, K. (2012). Edward 'Ned' Kelly: The historical record 1820-1893. Knoxfield: Gill.
Hare, F. A. (1892). The last of the bushrangers : an account of the capture of the Kelly gang (pp. vii, 326 p., [328] leaves of plates). Retrieved from https://babel.hathitrust.org/cgi/pt?id=uc1.b3132524
Jones, I. (1996). Ned Kelly : a short life. South Melbourne, Vic.: Lothian Books.
Kelson, B., & McQuilton, J. (2001). Kelly country : a photographic journey. St Lucia, Qld.: University of Queensland Press.
Molony, J. N. (2001). Ned Kelly. Carlton, Vic.: Melbourne University Press.